On August 14, the government issued a new resolution, deciding to grant e-visas to citizens of all countries and territories.
According to the department, foreigners who plan to enter Vietnam to travel, conduct market surveys, or explore investment chances, among others, can apply for e-visas by themselves without the need for invitations or guarantees from Vietnamese agencies, organizations, or individuals.
All the procedures from applying for, processing requests to providing e-visas and paying fees are carried out online.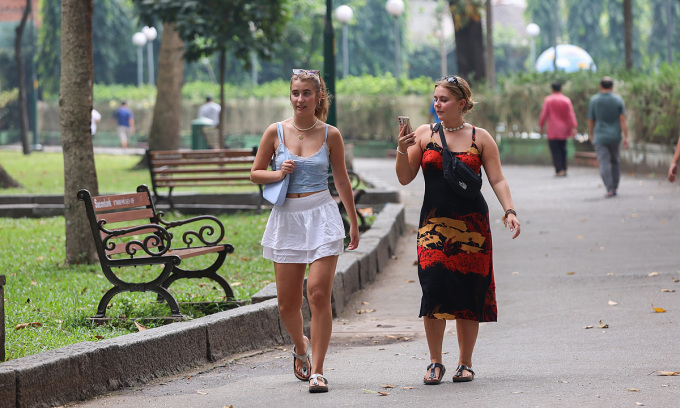 Foreigners walk inside Tao Dan Park in HCMC. Photo by VnExpress/Quynh Tran
Foreigners can print visas by themselves and don't have to handle visa reception procedures at visa granting agencies of Vietnam abroad, at international ports of entry, or via intermediaries, it said.
The department added that it will consider, process, and reply to e-visa applicants via the public service portal of the Ministry of Public Security within three working days since the day it receives sufficient e-visa application information and fees.
According to the government's decision, foreigners using e-visas are permitted to enter or exit Vietnam via 13 air border gates, 16 land border gates, and 13 sea border gates.
The 13 air border gates consist of Noi Bai (Hanoi), Tan Son Nhat (Ho Chi Minh City), Cam Ranh (Khanh Hoa), Da Nang (Da Nang), Cat Bi (Hai Phong), Can Tho (Can Tho), Phu Quoc (Kien Giang), Phu Bai (Thua Thien-Hue), Van Don (Quang Ninh), Tho Xuan (Thanh Hoa), Dong Hoi (Quang Binh), Phu Cat (Binh Dinh), and Lien Khuong (Lam Dong).
The 16 land border gates are Tay Trang (Dien Bien), Mong Cai (Quang Ninh), Huu Nghi (Lang Son ), Lao Cai (Lao Cai ), Na Meo (Thanh Hoa), Nam Can (Nghe An), Cau Treo (Ha Tinh), Cha Lo (Quang Binh), La Lay and Lao Bao (Quang Tri), Bo Y (Kon Tum), Moc Bai and Xa Mat (Tay Ninh), Vinh Xuong (An Giang), and Ha Tien (Kien Giang).
The 13 sea border gates comprise Hon Gai and Cam Pha (Quang Ninh), Hai Phong (Hai Phong), Nghi Son (Thanh Hoa), Vung Ang (Ha Tinh), Chan May (Thua Thien-Hue), Da Nang (Da Nang), Nha Trang (Khanh Hoa), Quy Nhon (Binh Dinh), Dung Quat (Quang Ngai), Vung Tau (Ba Ria - Vung Tau), Ho Chi Minh City, and Duong Dong (Kien Giang).
The National Assembly approved the law amending and supplementing some articles of the Law on Exit and Entry of Vietnamese Citizens and the Law on Foreigners' Entry into, Exit from, Transit through and Residence in Vietnam in late June.
Under this law, coming into force on August 15, the e-visa validity period is extended to 90 days from 30 days. Within 90 days after the e-visa is granted, foreigners can enter and exit Vietnam for unlimited times and without having to apply for new visas.
The law also permits citizens of the countries entitled to Vietnam's unilateral visa exemption to be granted a temporary residence period of 45 days, instead of 15 days in the past, and have visa granting and temporary residence extension considered in line with regulations.
By: Vnexpress.net